Tuscawilla Country Club
Tuscawilla Wedding DJ
Winter Springs Weddings
Tuscawilla Country Club has always been a great venue to perform at. With Linda Helm as their Catering Director; its an incredible location for unique families, businesses, and organizations to spend time with one another. The southern plantation-style building provides excellent views of the Winter Springs golf course and the country club scenic skyline.
Tuscawilla music expert, DJ Carl© has been happy to perform at Tuscawilla weddings, parties, and events numerous times. Here are some testimonials from past clients that should give you confidence and peace of mind to contact DJ Carl for your next special event, party, or country club wedding.
Tuscawilla Wedding Endorsement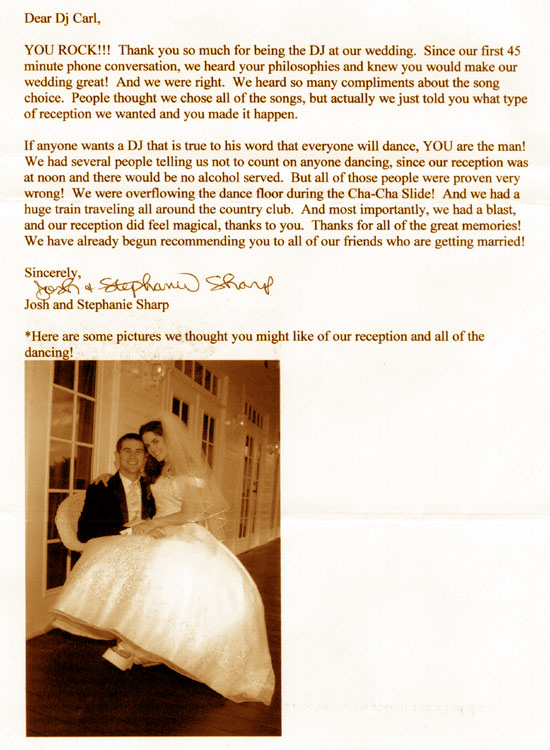 Dear DJ Carl,
YOU ROCK!!! Thank you so much for being the DJ at our wedding. Since our first 45 minute phone conversation, we heard your philosophies and knew you would make our wedding great! And we were right. We heard so many compliments about the song choices. People thought we chose all of the songs, but actually we just told you what type of reception we wanted and you made it happen.
If anyone wants a DJ that is true to his word that everyone will dance, YOU are the man! We had several people telling us not to count on anyone dancing, since our reception was at noon and there would be no alcohol served. But all of those people were proven very wrong! We were overflowing the dance floor during the Cha-Cha Slide! And we had a huge train traveling all around the country club. And most importantly, we had a blast, and our reception did feel magical, thanks to you. Thanks for all of the great memories! We have already begun recommending you to all of our friends who are getting married!
Sincerely,
Josh and Stephanie Sharp
Winter Springs, FL Wedding Endorsement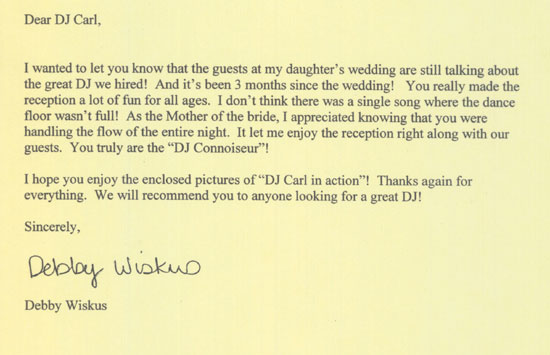 Dear DJ Carl,
I wanted to let you know that the guests at my daughter's wedding are still talking about the great DJ we hired! And it's been 3 months since the wedding! You really made the reception a lot of fun for all ages. I don't think there was a single song where the dance floor wasn't full! As the Mother of the bride, I appreciated knowing that you were handling the flow of the entire night. It let me enjoy the reception right along with our guests. You truly are the "DJ Connoiseur"!
I hope you enjoy the enclosed pictures of "DJ Carl in action"! Thanks again for everything. We will recommend you to anyone looking for a great DJ!
Sincerely,
Debby Wiskus
Tuscawilla Country Club Party
Hire Weddings at Tuscawilla DJ Carl©